Whether you are a seasoned affiliate marketing veteran or brand new, starting a new affiliate program can be jarring. You get all of these new tools and a whole new network to utilize, which can be daunting at first. Here are 5 of the best affiliate marketing tips for beginners who are looking to join an affiliate program.

These are some simple tasks that will make your life easier and your work more efficient.

1.) Review The Program's Policies
Before you post any content, the first thing you'll want to do is look over all of the policies carefully so that there are no surprises later on. Trust me- reading through it once will make sure that nothing catches you off guard during this exciting process which could result in termination from the program if they're not followed correctly.
Content creators are our most common affiliate partners. We want you to find success right away, so our program policies are very straightforward and easy to stick to. As long as you look over the program terms and represent our brand honestly and transparently, you'll do great!
2.) Check The Latest Promotions
Some programs have monthly specials and promotions designed to help you convey the brand's marketing campaigns. The brands hosted on UberNet frequently run promotional campaigns that you will want to be aware of to maximize your sales opportunities.
Within UberNet, you can view that information when you log in and visit the Promotion > Campaigns Database. From there you can choose to view your Banners & Links, create DirectLinks, optimize link placement and CTR with Ad Channels or view your Reports. This may seem like a lot at first, but don't worry! Our onboarding process will ensure you fully understand each part of your UberNet dashboard.

3.) Connect With Your Affiliate Manager
One of the benefits of working with a managed affiliate program is having your own dedicated affiliate manager. Your marketing expert has exclusive information about how to send converting traffic and help you meet FTC compliance standards, all while providing guidance on relevant company-specific opportunities that may be available for you to take advantage of! Building up a healthy relationship will maximize your earning potential, so make sure you engage with your affiliate manager.
4.) Repurpose Your Site's Old Content
If you are like most seasoned affiliate marketers, your site has old and outdated content that may need an update. You can repurpose your older content and use that time as an opportunity to plug in the products from your new affiliate partner. Not only will you be able to establish some valuable backlinks from your older content but you'll also be able to drive traffic without spending additional time on writing new content and increasing your earning potential too!
UberNet's 365 day affiliate program cookie window presents affiliate marketers with an excellent chance to capture commissions from visitors in the "information-gathering" stage of the funnel. With a year for your referral to make a purchase from our affiliate partners, you are sure to earn more without having to send traffic from your most competitive articles alone.
5.) Brainstorm New Content Ideas
Finally, you'll want to brainstorm a list of new content ideas for your audience that fit with your new affiliate partner's message. The most common post types are single product reviews, brand reviews, and comparison posts, but don't let these limit you. There are so many ways to promote your partners and get paid!
You might also be able to interview a representative of the company on social media channels like Twitch and YouTube. As long as you disclose your partnership to your audience properly, the possibilities are endless! Be sure to take some time at the start and brainstorm how you can better promote your new partner.
BONUS.) Check Up On Your Stats Often
Knowing how your marketing efforts are working from the beginning is vital for success. After you've followed the above steps, you'll want to know where you're succeeding and where you can improve.
You don't waste time running marketing campaigns that aren't converting. Similarly, you never want to be surprised by an affiliate program's audit!
It is important to make sure that all of the stats and reports provided are clear and easily accessible so that you can provide accurate information back to your partner when requested.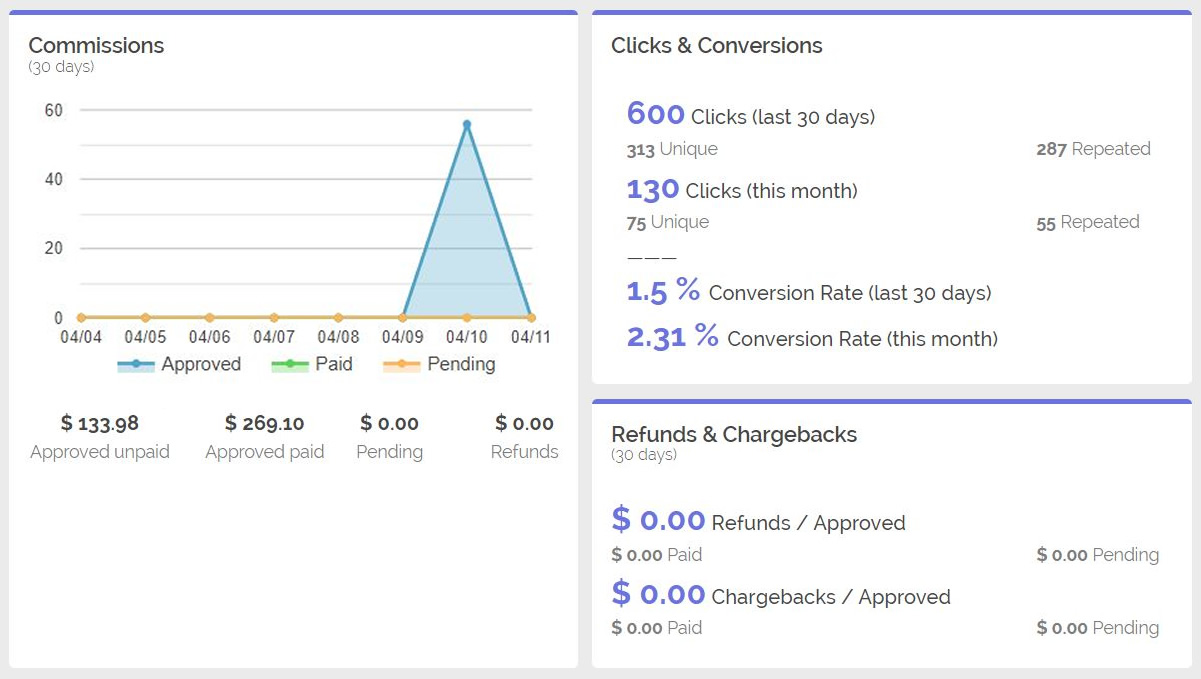 Wrapping Up
Fortunately, UberNet makes this process super easy. Simply log into your dashboard and you'll find your clicks, commissions, sales, and other useful information right there!
There you have it- some tips for what to do right away as a brand new affiliate partner. If there are any other questions or concerns, be sure to reach out to your affiliate manager at [email protected]